Here are different adresses of friends,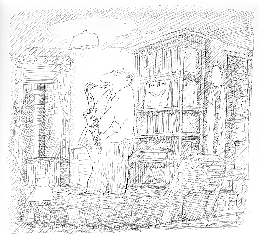 people I work with, nice persons, interesting men and women that have smart ideas and good adresses....
You will enjoy !!
---
Christiaan De Jong is a very interesting dutch musician that lives in Barcelona, Spain. We have an ensemble which is a variation of his BARCELONA NOVA ORCHESTRA, a band that mainly plays his compositions: excellent and original (which is not easy !! ) contemporary music. We have played in the famous contemporary music festival in Valencia-Spain, called ENSEMS, in 2000. The theme of this year was "Bach and Cuba". For that Christiaan has composed a piece, A TOUCH OF BACH, based on two parts, Preludio y Fuga. We also recorded a CD of duets, trios and quatuors for the PYXOS label.
---
N Guyen Thanh Thiên is a famous KINOMICHI teacher in Paris. He has the particularity to teach with a very clever way, open minded and evolutive. On his dojo french and english are spoken. After many years of studies, he is now a master. He is regularly invited in Japan to meet other masters. He also developped a special way to teach children based on Aikido, Judo, and his own originality.
---
Franck Hagege was an editor, a productor, and the manager of RDC Records and Label COBRA BLEU. Unfortunately; he died in 2005. His passion is jazz and he is also the creator of the famous award "LES DJANGO D'OR", that chooses every year the best jazz musician in different countries in Europe. He has also started the famous gypsy jazz festival of SAMOIS SUR SEINE, the village where DJANGO REINHARDT lived at the end of his life. Franck was a good friend of Django's family, and among them his son, Babik.
Our CD "SAMAR: The Birth" is on RDC's catalogue, among other CDs of famous french jazz musicians like DJANGO REINHARDT, SYLVAIN BEUF, BABIK REINHARDT, JEAN- MARC JAFFET, THIERRY MAILLARD, OLIVIER HUTMAN....
---
http://www.la-grange-du-bois.com
May be you've already participated to Pierre's summer course (Yoga and music). If not, you dont know the beautiful village "La Grange Du Bois", in Burgondie. It's a quite and peaceful place, where you will spend a great time in a special area in France, where you can rent rooms in an old farm, or only bed and breafast.
Ideal for your holydays !
This village is close to the town Macon, 1H30 from Paris.
---
http://nathalie.benazra.free.fr
Art and painting! Discover a great plastic artist...