Biography Pierre Levy
Pierre LEVY Saxophones Piano Composition Lead
---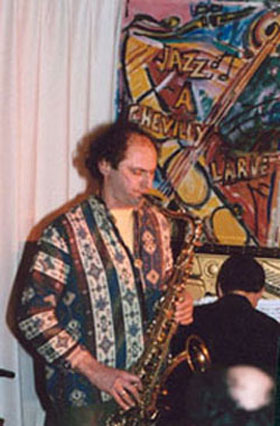 Pierre Levy has been demanded in different countries: France, Germany, Spain, South Africa, Israel, Argentina, Cape Verde, Greece, Madagascar.
Pierre has, among all the fantastic musicians, some favorites: Charles MINGUS, Rahsaan Roland KIRK, Thelonious MONK, Frank ZAPPA, Igor STRAVINSKY, Ravi SHANKAR, Hariprasad CHAURASIA. He will answer to your questions.
Pierre composes and arranges instrumental music as well as electronic music for web sites and software. Pierre also teaches (in CIM - PARIS) and gives mastercalsses and conferences about saxophone, harmony, improvisation, jazz and modern music history .
"Pierre Levy Group" plays concerts at different places: festivals, clubs, hotels, private events ....
You need Concerts, you need compositions, you need Masterclasses and Workshops : contact us.
Pierre LEVY was born near Paris, he fell in love with music when he was 10 by listening his parents records and because a cousin working for Black and Blue Records invited him to a recording of Jay McSHANN, Arnett COBB, Milt BUCKNER and other famous american musicians. Since that jazz and music became all his life.
He played the piano, harmonica, guitar, percussions and when he was 17 decided to play saxophone.
He studied one year and started to play with a local band the « JAZZTERIX ».
At this time he was playing only by ear, and couldn't read well the notes.
He continued his way as an autodidact, playing here and there with jazz and blues groups.
When he was 25 he decided to become professionnal and started to practice 6 to 8 hours a day ; he also went to Rimon School of Jazz and Contemporary Music to learn composition, harmony, musical theory and arrangement. Back in France he continued his studies of musical writing (4 years in the famous jazz school in Paris, CIM).
He founded his first professionnal group , « ATTILA JAZZ QUINTET » and later changed the name to « PIERRE LEVY QUINTET ».
Pierre had performed with or without this band in many places, like Paris (Duc des Lombards, Sunset, Petit Journal Montparnasse, Festivals), Capetown- South Africa, Bahia Blanca- Buenos Aires Argentina, ENSEMS Festival of Valencia- Spain, Altenstadt- Germany, Tel Aviv and Eilat- Israel, Praia- Cape Verde, Sharm el Sheik- Egypt, Athens in Greece, Madagascar Jazz Festival…
In this group played excellent french musicians as Airelle BESSON, François LAUDET, Nico MORELLI, Nicolas GENEST, Jean Claude JOUY, Bruno ROUSSELET, Richard RAUX, Georges BECKERICH, Jean GOBINET, Bruno BIANCHI, and the americans Larry GILLESPIE, Ronnie PATTERSON and David ANGEL.
Pierre LEVY also had the opportunity to play with Luther ALLISON, Jack VAN POLL, Jean Claude FORHENBACH (played with Django REINHARDT), Jerry GARVAL (played with Charles MINGUS, Steve LACY), Jess GERZSTENKORN (played with Rahsaan Roland KIRK, Clifford JORDAN, Sir Roland HANNA)...
He was at the masterclasses of Bill FRISELL, Lee KONITZ, Dave LIBMAN.
Daniel HUMAIR, drummer and painter, gave his support to Pierre LEVY's CD, « SAMAR : The Birth », and he wrote :

«Pierre LEVY and his friends show us in that CD their purity and knowledge. I answer for their work with enthousiasm. »
Now, Pierre likes not to stay in the jazz world only. He plays with very different groups and musicians as Bachir SANOGO, Napoleon MADDOX, YOUNG DO Seo, Christiaan DE JONG, ENSEMBLE BARCELONA NOVA MUSICA (contemporary and improvised music), TRIVIA (a vocal trio that sings corsica polyphonic music based on music written between the 16th century to contemporary music), and other temporary groups.